SEAFOOD AND FISH
BARBECUED CODFISH WITH RUSTIC POTATOES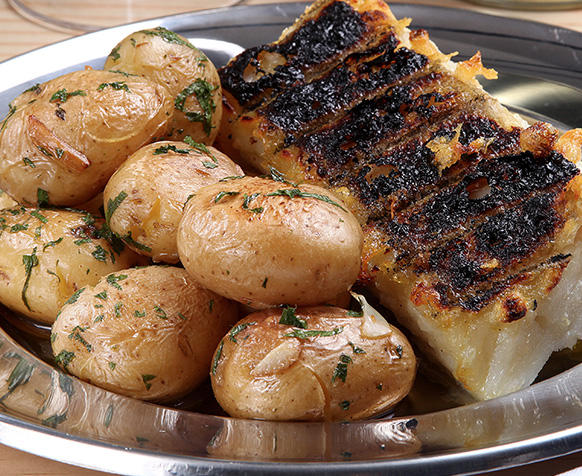 Ingredients
- 300 ml Andorinha Selection Extra Virgin Olive Oil
- Soaked cod slabs
- 10 garlic cloves, sliced
- 3 tablespoons of parsley leaves
- 50 ml of red wine vinegar
- 1.5 kg baby potatoes
- 1 kg regular sea salt
METHOD
Wipe the cod slabs with a cloth and barbecue them with the skin down.
Once the skin is nicely grilled, dip it in cold water and lay it on the opposite side to grill again.
(This is to prevent the cod from getting too dry.)
When you are done grilling, place it in the oven heated to 100 oC with Andorinha Extra Virgin Olive Oil Spray for 10 minutes.
Wash the potatoes in running water and place them in a deep pan, cover with coarse salt and bake.
The potatoes are cooked through when you can easily pierce them with a toothpick.
Heat up the garlic slices with 100 ml Andorinha Extra Virgin Olive Oil, without boiling, in a covered pan.
Remove the salt from the potatoes and crush them slightly.
Place it next to the cod before serving and finish with olive oil and garlic, parsley and vinegar.