MEAT
BLACK-EYED PEAS AND MEATS RISOTTO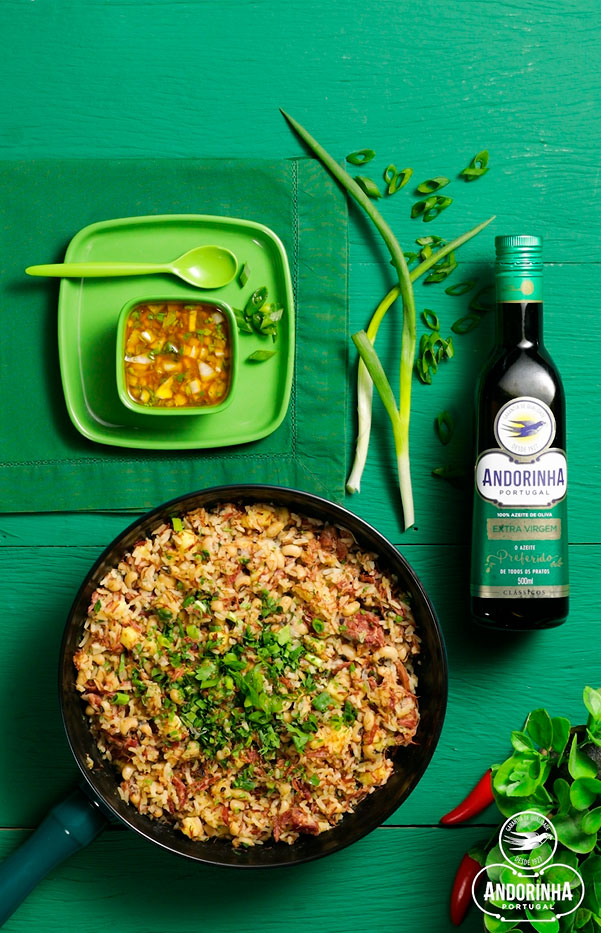 Ingredients
2 tablespoons of ANDORINHA EXTRA VIRGIN OLIVE OIL
500 g jerked beef, cooked and pulled
2 cups of black-eyed peas
1 medium-sized onion, chopped
2 garlic cloves, chopped
2 cups of rice
2 cups of diced halloumi cheese
Chopped parsley and spring onions
Salt
METHOD
Soak the black-eyed peas in water for about 4 hours.
In a pressure cooker, add the soaked black-eyed peas and cover with water (water level should be 3 inches above the peas). Cook the peas for 10 minutes (count the time when the cooker reaches pressure). Wait for the pan to cool down, strain the peas and reserve the cooking water.
In a large saucepan, heat the ANDORINHA EXTRA VIRGIN OLIVE OIL and sauté the onion with the garlic until withered. Add the raw rice and sauté a little more.
Add the jerked beef, mix it up and add the pea cooking water (if needed, top up with more water).
Cook until the rice is tender. Just before turning the heat off, add the halloumi cheese and the cooked black-eyed peas. Mix it all up.
Finish it up with the chopped parsley and spring onions and add more salt if necessary. Serve it with bananas and a spicy vinaigrette dressing!