MEAT
GRANDMA'S HUMP STEAK STEW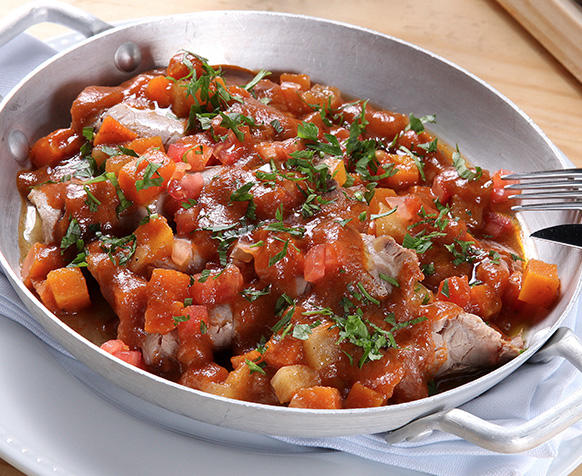 Ingredients
- 100 ml Andorinha Selection Extra Virgin Olive Oil
- 3 kg hump steak
- 450 g onions, chopped
- 10 garlic cloves, sliced
- 100 g bacon, chopped
- 250 g turnip, diced
- 260 g carrots, diced
- 500 ml white wine
- 300 g tomatoes, diced
- 2 bay leaves
- 2 tablespoons of chopped parsley
- 500 ml chicken stock
- 300 ml tomato juice
- Sea salt
- Black pepper
METHOD
Season the meat with salt, pepper and 1 bay leaf in 100 ml of Andorinha Selection Extra Virgin Olive Oil.
Then add the onion, garlic and bacon.
Once they are golden brown, refresh the mixture with white wine, chicken stock and tomato juice.
Let the meat stew well over low heat.
When it is cooked through, remove from the pan and reserve.
Beat the mixture in a blender until homogeneous.
Put it back over heat and add the meat, the carrots and let it boil for 5 minutes.
Add the turnip, 1 bay leaf and boil for another 10 minutes.
Finally, add the tomato and parsley, let it boil another 2 or 3 minutes before serving.
Serve with white rice.