DESSERTS
FRUIT GAZPACHO WITH LEMON WHIPPED CREAM IN SHERRY AND MINT INFUSION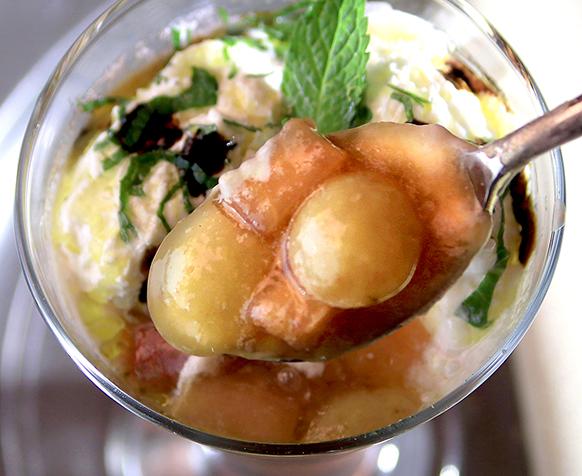 Ingredients
2 tablespoons of Andorinha Organic Olive Oil
1 large apple, diced
1 large pear, diced
2 large peaches, diced
1 large bunch of green grapes
1 tablespoon of brown sugar
½ lemon juice
30 ml of sherry
100 ml fresh cream
Fresh mint
Sauce
2 cups of apple juice
1 cup of orange juice
1 tablespoon of brown sugar
1 tablespoon of cornstarch
METHOD
Mint infusion:
Heat the sherry to 30 degrees and add the fresh mint, let it stand for 1 hour, then strain.
Set aside.
Lemon whipped cream:
Make the whipped cream with lemon juice in a bottle of whipped cream or an electric mixer, a little brown sugar and infusion of sherry with mint
Preparation:
Wash the fruit under running water and chop into small pieces.
Then place them in a pan.
Add the Andorinha Organic Olive Oil, sugar and 1/2 cup of water.
Cook over low heat for 15 minutes or until the fruit is tender.
Turn the heat off and reserve.
Sauce: add the apple juice, orange juice, sugar and cornstarch to a saucepan.
Cook over high heat for 5 minutes while stirring or until it forms a thin sauce.
Turn the heat off.
Pour over the frozen fruit, place the whipped cream on top and garnish with fresh mint leaves.
Serve chilled.