SEAFOOD AND FISH
FISH OF THE DAY WITH MANDIOQUINHA SHAVINGS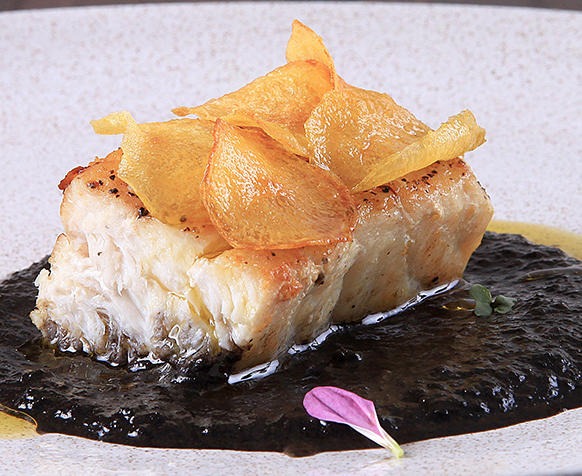 Ingredients
- Andorinha Organic Extra Virgin Olive Oil
- 30 g mandioquinha shavings
- 180 g slab of fish of the day
- 40 g peeled yellow and red capsicum
- 20 ml white wine
- 20 g red onions, chopped
- 20 g leek, chopped
- 2 g squid ink (1 envelope)
- 50 ml fish stock
- Salt and black pepper
METHOD
Mandioquinha shavings:
Fry the mandioquinha shavings in Andorinha Olive Oil, leave on paper towels and reserve.
Squid ink sauce:
In a pan, drizzle some Andorinha Organic Extra Virgin Olive Oil and brown the onion and leek.
Then, add the peeled capsicums in a blender, with wine and squid ink.
Stir well, pour the stock and turn it off.
Adjust the salt and add it all to a blender to make a thick smooth sauce.
Reserve.
Fish:
Pan fry the fish until sealed and juicy.
Reserve.
Putting it together:
In a deep dish, arrange the sauce and place the fish slab over it.
Gently arrange the mandioquinha shavings one by one, drawing fish scales on top of the fish.
Garnish with fresh sprouts and a good dash of Andorinha Organic Extra Virgin Olive Oil.