ENTRÉES
MINI LAMB POLPETTA BURGERS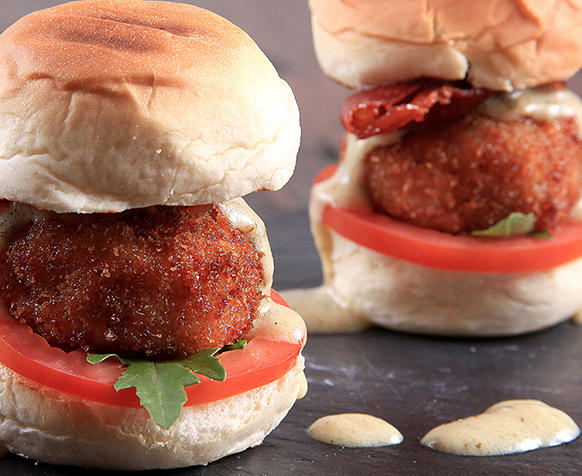 Ingredients
- Andorinha Olive Oil to fry
- 100 g ground flank steak
- 60 g ground lamb shoulder
- 60 g grated mozzarella
- 30 g Dijon mustard
- 50 ml fresh cream
- 10 g onions, chopped
- 4 arugula leaves
- 1 small tomato cut into slices
- 1 small handful of chopped mint
Batter:
- 4 mini hamburger buns
- Salt and black pepper
METHOD
Hamburger:
Season the meat with salt and pepper.
Shape the 4 mini burgers using a small ring.
Divide the meat into 4 equal parts, spread half of one part on the ring, add some mozzarella and close with the other half.
Dip it in the batter and fry in Andorinha Olive Oil over low heat.
Place on paper towels.
Dijon mustard and mint sauce:
In a small saucepan, place a drizzle of Andorinha Olive Oil and brown the onion.
Then add the Dijon and the cream, diluting as much as you can.
Finally, adjust the salt and sprinkle with the mint.
Reserve.
Putting it together:
Cut the bun in half and toast the inside. This is very important to prevent the bun from getting moist.
Place the arugula leaf and the tomato slice on top of the polpetta burger.
Pour the sauce and serve this yummy treat!