CHICKEN
ROASTED TURKEY WITH OLIVE OIL AND LEMON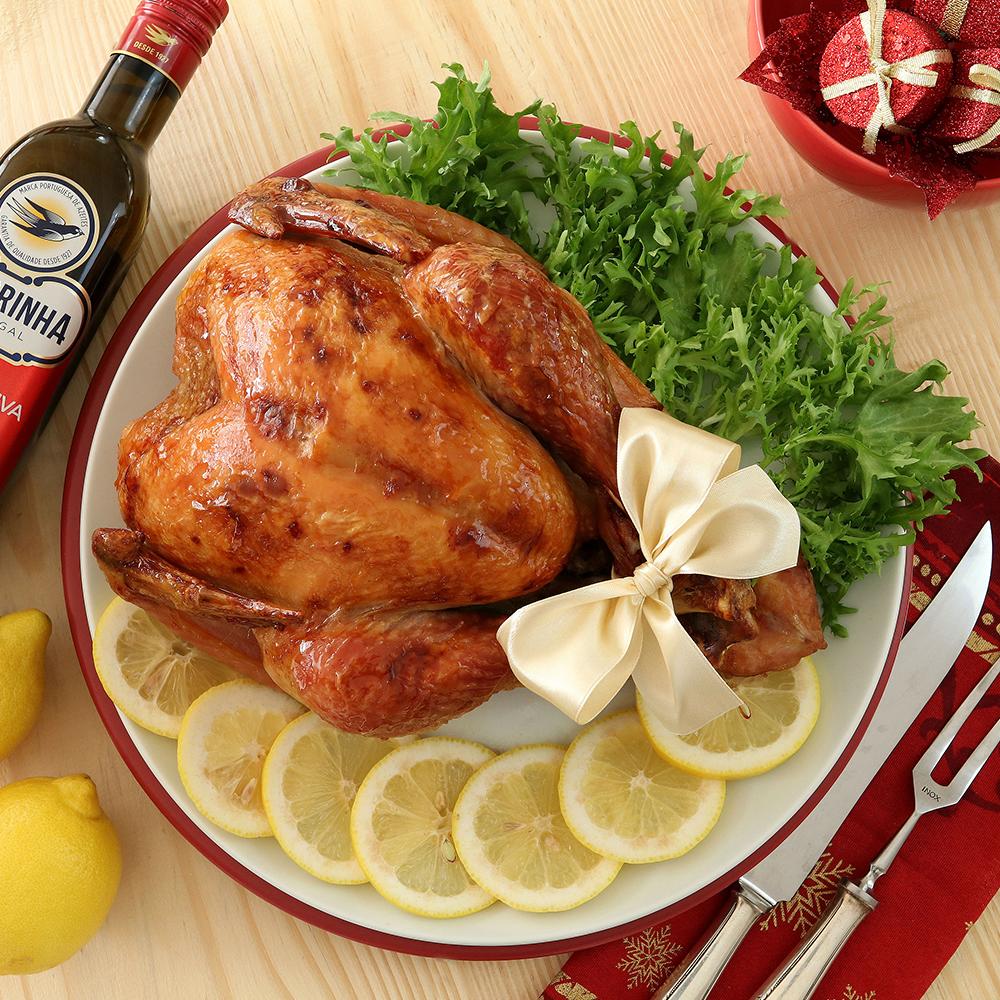 Ingredients
One 4 kg turkey
Salt and black pepper
1 peeled onion
1 lemon cut in half
4 bay leaves
6 to 8 bacon slices

For the herbal oil:
Olive oil
Salt and black pepper
Zest and juice of 1 lemon
4 garlic cloves, crushed
Dried herbs
Chopped parsley leaves
METHOD
The first thing to make is the herbal oil. If you are already seasoning the turkey when it's about to be roasted, preheat the oven to 220 °C in the meantime. If you wish, you can do it the day before. In a jar, add a little salt and pepper, a generous drizzle of olive oil, crushed garlic, lemon zest and juice, parsley leaves and herbs. Mix well.
Season the cavity of the turkey, without the giblets, with salt and pepper. Then tuck the peeled halved onion in, with the halved lime and the bay leaves. Using your hands, gently loosen the turkey skin and, making sure you do not tear it off, pour a little more than half of the oil between the flesh and the skin. Don't forget the thighs.

Reserve a little oil to smear on the outside and drizzle with a little more oil.
Once you've done that, you can cover it with aluminum foil and take it to the fridge until it's time to roast, or you can put it straight in the preheated oven.

Time to roast.
Place the turkey (that has been left at room temperature) on a large baking dish, chest up. Leave it in the oven for about 20 minutes to melt the oil. Then you take it out of the oven and cover it with the bacon slices. This keeps the moisture in and makes it juicy.

The turkey will roast at medium heat for about 2 and a half hours or so — it takes 30 minutes per kg. Every 20 minutes, open the oven and cover it with the juices from the baking dish. To check whether the turkey is cooked, stick a toothpick in the thickest part of the thigh and make sure the juice is running clear, instead of pink.
If the turkey comes with a thermometer, you don't need to do that.

Sauce
For the sauce, you will use the very dish on which you roasted the turkey. Remove the juices and take it to the stove. Take the bacon off the top of the turkey, the onion and the lime from inside it, chop them up and add them to the hot dish. Then, pour a cup of dry white wine or cider. Crush down a handful of walnuts, place them in a bowl, then strain the sauce on top of the walnuts.

As side dishes, you can use potato gratin or white rice.