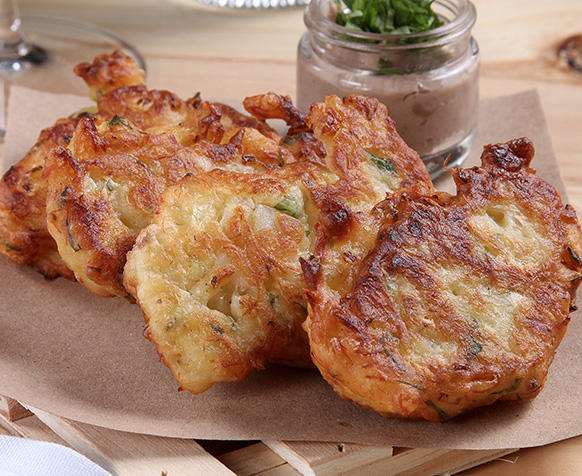 Ingredients
- Andorinha Olive Oil (enough to fry)
- 1 kg soaked, boiled and shredded codfish
- 150 g leek
- 200 g onions, chopped
- 2 garlic cloves, chopped
- 500 g flour
- 5 eggs
- 100 ml beer
- 100 ml milk
- 2 tablespoons of chopped parsley
- Regular sea salt
- Black pepper
- Nutmeg
METHOD
Make a thick batter with the flour, milk, beer and eggs and beat until homogeneous.
Add the chopped leek, onion and garlic, the codfish and parsley and mix it all up.
Season with salt and pepper and fry the fritters in plenty of oil.
Place the fritters on paper towel before serving.
On the side, make a black-eyed bean broth:
Ingredients
- Andorinha Olive Oil
- 1 kg boiled black-eyed peas
- 250 g onions, chopped
- 60 g garlic, chopped
- 50 g bacon
- 300 g fresh tomatoes
- liter chicken stock
- 2 bay leaves
- Regular sea salt
- Black pepper
Preparation:
In a saucepan, prepare a base with a little Andorinha Olive Oil and add the diced bacon.
Add the chopped garlic and onion, bay leaves and black-eyed peas.
Add the chicken stock and let it cook.
Crush it in a blender and sieve it.